---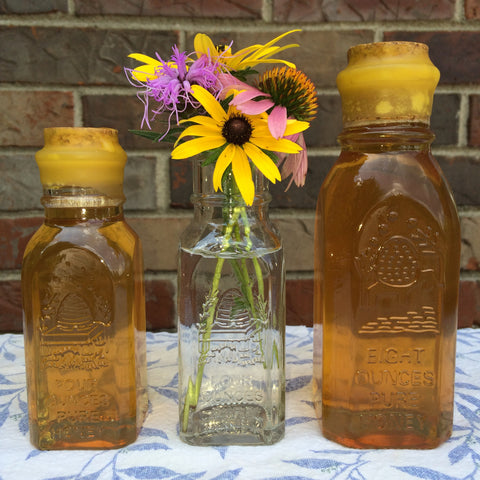 Nashville Natives Wildflower Honey 2 x 8 oz Gift Pack. Free shipping!
---
Gift Pack - Two eight ounce jars of all natural wildflower honey with free shipping!
Our first batch, Very Limited Edition Wildflower honey is the most delicious honey you will ever taste. Open the beautiful, historic Muth jar stopped with a cork and lovingly sealed with melted beeswax and drizzle some onto a spoon. Taste it directly without a biscuit or other carrier. Savor the multiple layers of flavors and undertones that our happy and healthy bees have created from harvested nectar and pollen from our all natural pollinator sanctuary in the rolling hills of middle Tennessee.
This is what real honey tastes like. It is pure, raw and all natural. Our honey is unheated so the extremely beneficial natural enzymes and traces of pollen are still intact. These are the components that make pure honey the most perfect and healthiest of foods.
All proceeds from the sale of our amazing honey are used to manage and improve our 15 acre pollinator sanctuary where bees, butterflies, hummingbirds and other wildlife find a safe and welcoming sanctuary. Pollinators find abundant and all natural food sources as well as healthy natural habitats.
What's not to love about delicious, all natural honey made from happy bees which also supports and maintains vital habitat for large numbers and a large diversity of pollinators in middle Tennessee? 
Order a gift pack today and share the love with friends and family. We, the bees, and all of the pollinators thank you.
Nashville Natives
Pollinator Sanctuary
Fairview, TN